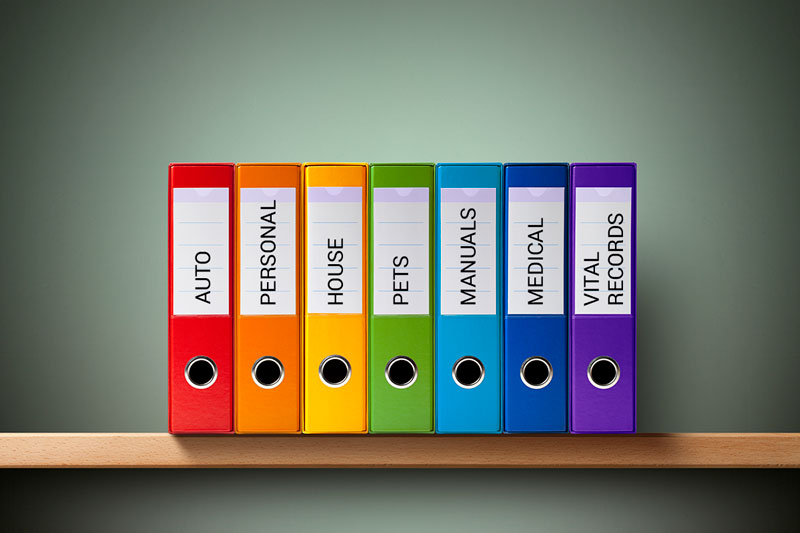 How is everyone holding up? I hope your families are safe and healthy. It is such a surreal world we find ourselves living in these days. We're cooped up at home playing coworker with our spouses, teacher with our kids, and spending way too much time on social media (let's be honest). While life may look a little different right now, we must try to make the most of it. There's truthfully never been a better time to tackle some of those home projects that have been on your to-do list for years. I'm going to walk you through a few DIY home organization tips you can conquer while staying at home, specifically regarding your vital records.
Storing your vital records & valuables
So many clients of ours have their vital records & valuables laying about their home. On first thought, it may not seem bad or careless, but when you think about those records & items potentially being misplaced by a nosy toddler or stolen (heaven forbid), it is gut-wrenching. To avoid such a disaster, first and foremost create a safe haven that can hold all of your original documents & valuables, and put them in a safe that is protected by security. It is far too risky to leave these items lying about your home.  Everything you keep in this folder should have a copy made (front and back), which is what you'll keep at home. This way you don't have to run back-and-forth to your safe every time you need something, but your originals are protected.
I've noted some of my favorite products for you below!
Filing your vital records copies
Make Important Document Binders that you can grab quickly, in case of an emergency. Store these on a shelf in your office that is easily accessible. These binders should contain the copies you've made of your vital records – NOT the originals. Originals (as previously mentioned) should be stored in a safe, fireproof place. Accordion files also work great for categories or family members with less paperwork to maintain.
Labeling your folders
Assign each person in the family their own tab (or binder, if you have that much paperwork). Then label sub-sections by titles you'll remember, like birth certificates, hospital records, citizenship, marriage documents, divorce paperwork, etc.  In a binder labeled "Medical", include information such as a list of all the medications you are taking (with dose), insurance paperwork & any medical history. This will allow you to find documents with ease later on, even if you're in a rush (has anyone in the history of the world ever needed to find a vital record document when they're not in a hurry??). Making one for your pets, vehicles & home are also great to have on hand and ready to go if an emergency or unforeseen event comes up. Don't forget to use a label maker, so that each binder & tab is easily readable! Here are a few of the products that I love:
A tip I always give my clients, and one so many have never thought of prior to working with Sorted Out, is to make copies of every credit card! Keeping copies helps with your protection, should you have to call your bank for anything, and also makes them more accessible when your cards aren't nearby (making those late-night online purchases so much easier!).
If you have any tips of your own for filing your vital records at home, please share with us in the comments below! Be sure to check back for more DIY home organization tips as we help you through these unprecedented times. If you'd like a consultation over the phone, please reach out to us at info@sortedout.com so we can discuss options on how we can help, all while staying safe.
Looking forward to hearing from you,
Tonia