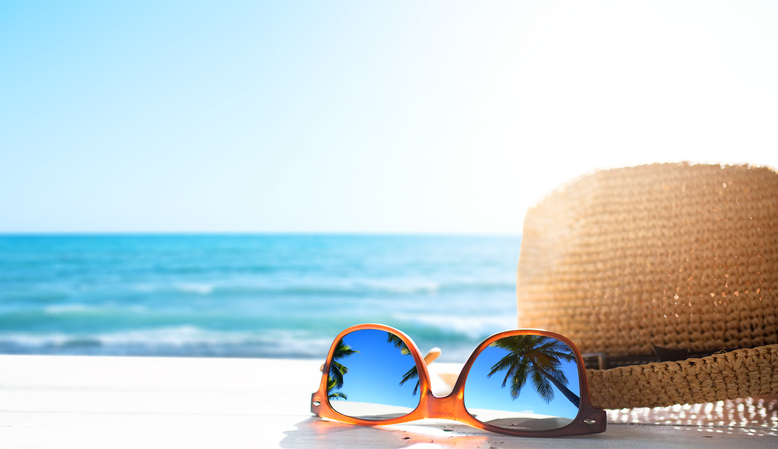 Vacation = bliss. But before you can feast your eyes on that lobster tail feast, set your phone to airplane mode, and breathe in the fresh ocean air, comes…packing. Ugh. Who else here loathes getting organized for vacation? Because it's not just you anymore – it's each of your kids who come with their own set of needs, and your partner who thinks that basketball-tossing clothes into a suitcase counts as packing – bless their hearts. It's a lot of added stress before reaching paradise (which completely justifies that 3 hour beachside massage in my opinion). But regardless of the destination, stress isn't fun, so today we'll go over some of our favorite tips and tricks for getting organized for vacation and bring that vacay bliss one step closer.
Make a Packing List
I believe that the best vacations start with an extensive packing list. No? Just me? Live and learn, friends! My reasoning is that knowing you've (literally) checked off every to-do and to-buy box before arriving at your destination ensures that you may actually be able to…wait for it…relax! Here are the categories Sorted Out suggests using for your foolproof packing list:
Casual outfits (daytime, loungewear, travel)
Event outfits (dinner, nights out, wedding attire, etc.)
Beachwear (swimsuits, coverups, sunglasses, hats)
Undergarments (socks, underwear, diapers, etc.)
Beach-gear (towels, sunscreen, SPF Chapstick, sand toys, beach tent)
Toiletries (makeup, shower supplies, razors, toothbrush, face oils, etc.)
Medicine & First Aid (inhalers, EpiPen, band-aids, ibuprofen, allergy meds, etc.)
Extra Personal Protection Items (face masks, sanitizer & disinfecting wipes)
Entertainment (air pods, iPads, books, reading light, chargers, wireless speaker)
Documents (IDs, passports, travel plans, reservation records)
Travel needs (snacks, entertainment for each family member, one day's worth of clothes in case of lost luggage, etc.)
(local currency, unique family necessities)
Here are some of my favorite organizers to use when packing:
I could go on and on about each one of these categories, but to keep this from becoming a novel, I want to focus on beach necessities. Most popular vacations revolve around sandbanks and water which also leads to lugging around beach toys, chairs, towels, and…the list continues. Over the years I've been able to narrow down our list of beach necessities that also lend themselves well to luggage constraints.
Take a look:
These stackable buckets are great for young children and are so easy to pack! To make the most of your luggage space, place these inside a hat or fill them with socks – no wasted space here.
I can't recommend this beach tent enough. Not only does it expand to 7×7 feet and is 98% UV ray protective, but it weighs in at only 4lbs and measures 19.5in when rolled into the portable bag, making it perfect for traveling and easily packed along the inside seam of your checked luggage.
Sand-proof, water-resistant beach blankets are a must-have for any outdoor activity. Sure, they're good for the beach, but they're also good for covering up during a late-set rainstorm, for picnics, and especially when you forget to hang your towels out to dry the night before your flight (been there, done that). I love the fun designs and transportability of this blanket.
When you follow these tips for getting organized for vacation, you'll find that the prep work isn't as bad as it once was. So, go ahead and plan that trip – you deserve it! Especially after having been cooped up with the family for months during Covid 19 taking on the role of mom, teacher, personal assistant, housekeeper, and wife (did I miss one? My exhaustion points to yes.) Let us know your next destination in the comments below (and don't forget to extend an invite)!
If you need more travel tips or have any organizational needs for your home and office, reach out to us at info@sortedout.com or call (214) 383-9985.
Looking forward to hearing from you,
Tonia