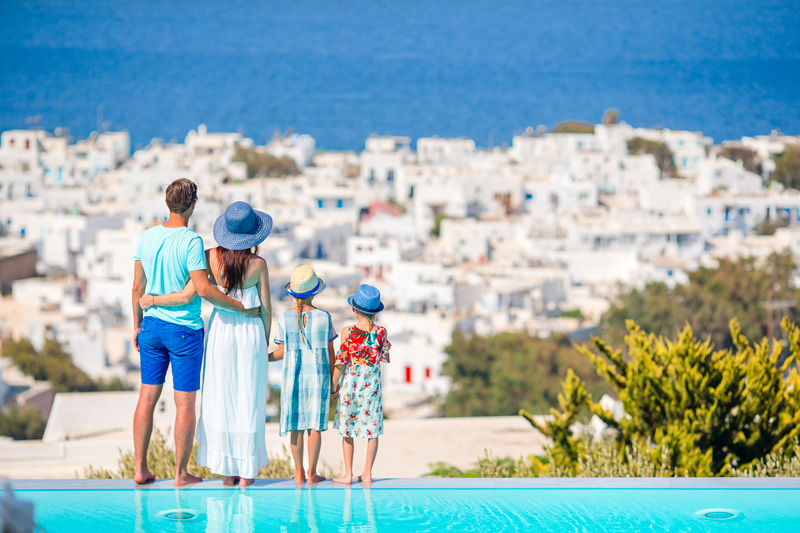 Traveling with your family is equal parts stressful and amazing. Preparing your family for getting out the door is a whole beast of its own. So much so, that often times we overlook our to-do list for things we need on the plane/while traveling. Here are some of my tried-and-true tips for achieving a peaceful travel day, just in time for your summer vacation!
Family Travel Necessities
I start off by creating a list a few days or even weeks ahead of time that includes all of our family essentials. You can continue adding to your list throughout your daily routine to ensure you won't forget anything. This gives me enough time to pick up prescription refills if necessary and make a trip to the store. It's important to pack the necessities, like medicine, band-aids, sunscreen, etc. You don't want your trip to be ruined because you forgot your son's inhaler or EpiPen – yikes!
Packing Cubes
I am a huge advocate for packing cubes. They are little squares that take up no extra room in your bag but help to keep everything organized. I prefer to have one cube dedicated to meds and first aid, one for snacks, another for chargers and cords, etc. I even use them for our checked luggage; I separate socks and pajamas from swimsuits, and pre-plan outfits for each day and designate them to their own cube. I'm telling you, these things are amazing!
Carry-on Luggage
I make sure to take medical necessities in my carry on, along with travel size sunscreen, a swimsuit, and a change of undergarments for each family member. I bring just enough with me to ensure we're all able to enjoy our first day of vacation even if our luggage is lost or delayed. Chargers, a Kindle for myself, tablets for the kids, and snacks are also placed in packing cubes and stored in our carry-on bags. Hangry kids will not be appreciated by your fellow travel companions, especially the ones seated in front of your child who loves to kick the seat.
In-flight Entertainment
Make sure you have enough games or other entertainment to distract the kids for the duration of your travels, whether that be in the car or on a plane. I've had success by asking my children what they'd like for the flight. Allowing them to choose on their own gives them a sense of responsibility and, in my experience, keeps them happier than if mom brought the wrong snacks – heaven forbid. Ha! At home, I prefer to monitor their screen time, but I say let the kids do what they want as long as they're entertained and behaving well while traveling. After all, this is a vacation for you and them, so don't stress about it too much. Sit back, relax, and get lost in that new book or podcast.
What tips do you have for traveling with your family? As always, reach out to us at info@sortedout.com for all of your organization questions and needs. We hope you have a wonderful vacation! Take us with you next time, won't you?
Looking forward to hearing from you,
Tonia