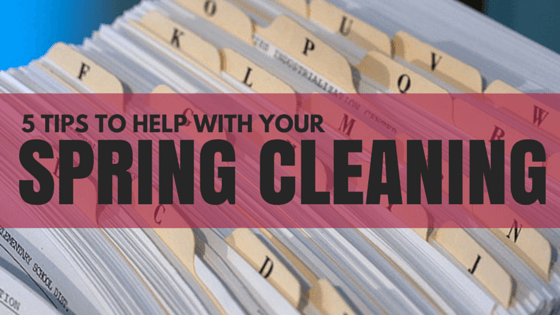 Spring is upon us and that means it's time to get organized. Do not let the idea overwhelm you. Only spending small segments of time each day on getting organized will get you far and without the headache. Here are a few favorite tips to help you this year during your spring cleaning and it gets the children involved too!
One Drawer a Day – Pick one drawer a day to purge through and organize. Only spend about 20 minutes completing this task. Just by spending a little time each day going through the hidden clutter, you will be surprised how much more organized you become by the end of the month. In the kitchen pick the utility drawer and purge unwanted, chipped, or stained spoons and spatulas. In the laundry room, choose a junk drawer or battery drawer. In the master bathroom, choose the cosmetic drawer and purge unwanted foundation, old mascara and eye shadow colors you no longer use.
Digital Declutter – Block out an entire day to spend going through all of your digital photos. If an entire day overwhelms block off a half day. Organize them by child and age, vacations with the date, holidays by year, etc. Delete any pictures you do not want to keep. Once you have completed this task, be sure to back it up your pictures to a disk and keep in a secure place. Finding pictures to send to family and friends will now be a much easier task in the future.
Artwork Collection – Each school year, kids bring home numerous amounts of artwork. Do you really need to keep all of it? The answer is no. Art portfolios are a great way to archive and share the artwork your child has done over the year. Get the kids involved by having them choose their favorite ones to add to the portfolio and get rid of the rest. Each child should have their own portfolio labeled with their name and the school year. This will eliminate the boxes taking up your garage or attic space.
Magazine Overload – Purge through all of the unwanted magazines. Go into each room of the house and throw away any magazines that have not been read in over a month. If you haven't read it but it is still 3 months old, get rid of it anyway. A great idea to recycle the old magazines you have already finished reading, donate them to your hair or nail salon. Limit yourself and each family member to only 2 magazine subscriptions per year. Cut costs and save paper!
Kids take Control – In each of the children's closet, place a purge bin/bag. Teach them to decide which clothing they want/need to keep and which to either donate or put aside for sell. Not only will this be a great way to get them involved in the process of organizing, but it teaches them accountability.
Organizing your home can be self satisfying and very rewarding once it is all said and done. You will be enjoying your spring and summer less stressed and clutter free. How awesome would it be to be able to find a home for virtually everything in your home?