Recently I've been sharing a lot of tips with you on establishing an organized home and how to keep it that way. Today's blog post is going to focus on organizing your clutter "hot spots" in order for your home to remain a relaxing place. We all know too well how those tiny piles can really add up, so let's dive into tackling these "hot spots" and maintaining your organized home!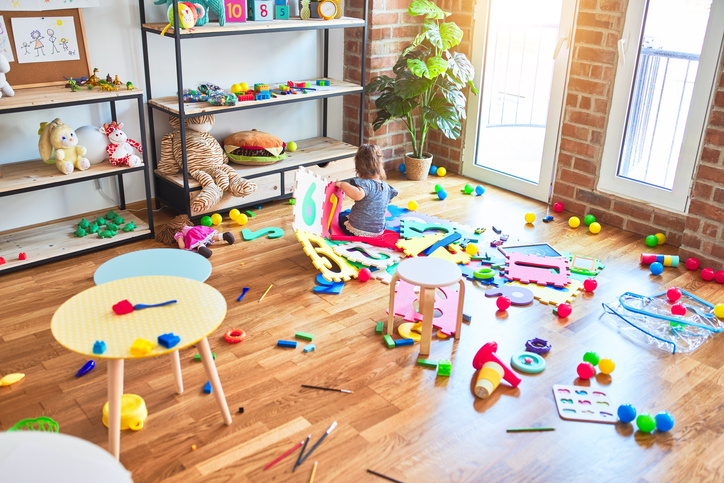 Kitchen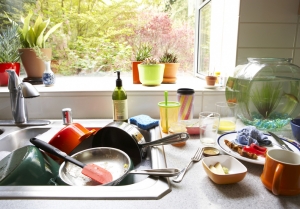 The kitchen is truly the heart of your home and serves multiple purposes. It's where many activities take place (cooking, homework, makeshift office, etc.) and where everyone tends to gather…along with all of the clutter! To keep your main living space looking tidy and ready for unexpected guests, you'll want to make sure everything actually has a place to call home. By creating spaces for all of your utensils and gadgets like toaster ovens, Instapots, etc. you'll never run into that overwhelmed feeling of trying to find storage for everything (and then giving up). Make sure these dedicated places for your appliances are in close proximity to where they'll be used most in order to limit the chances of items not being returned to their designated spot.
For under-sink areas I suggest keeping a container for cleaning products and overstock cleaning utensils. When it's convenient and easy to put something away, you're more likely to do it in that moment instead of letting the clutter linger and grow.
A commonly overlooked area of the kitchen is the…dare I say it…junk drawer. By cleaning and keeping it organized once a week, you'll be taking the word "junk" out of the infamous junk drawer and tossing it into the trash, where it belongs!
For our final destination in the kitchen, let's visit our good friend, the freezer. More times than not, we stock it up after a grocery haul and forget what we have available within a week. I suggest keeping a freezer inventory list complete with use-by dates. Not only will this help you keep your freezer organized and updated, but it'll also assist with meal planning for the week!
Bedrooms/Living Rooms/Playrooms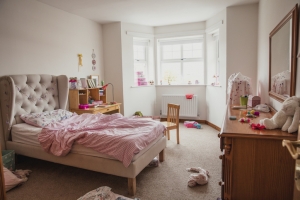 If your kitchen is the common area of your home where everyone congregates, then your bedroom/living room/playroom may be where all of your non-guest-friendly junk and clutter ends up, becoming a catch-all room. To keep things looking neat and tidy, keep a big trunk, basket, or box in each room where toys and blankets can be stored. If you have children with lots of toys, limit them to one at a time so items don't build up, and cycle through their allotment each week to keep toys feeling "new" for your kids.
Your vanity or dressing table is a consistent space for clutter to build. By keeping an inventory of your makeup and beauty items you'll know when you need to restock, and when you need to toss expired items. Make sure to keep this list close (a top drawer or on the inside of a cabinet door will do) and update it often. Organize your small and frequently used items in pretty containers that are easily accessible, yet aesthetically pleasing.
Bedside tables are also common places for miscellaneous and forgotten items to build. If you no longer need the Nyquil from months ago or the muscle relaxing cream next to you every night, go ahead and toss it or return it to its proper location. For items you do use daily (eye mask, moisturizer, Chapstick, essential oils, etc.) place them neatly on a tray where everything has its place. If you don't need something regularly, it shouldn't call your nightstand "home".
Next let's venture over to your closet. It's a beloved yet often overlooked space when it comes ot keeping things tidy. To keep it organized daily, make an effort to always hang up your clothes or put them in your hamper at the beginning and end of the day. If a pile isn't already present, you'll be less likely to hastily form one after a long day. To create space so your items are more visible (and therefore more likely to be worn), I suggest rotating out your seasonal items. A hallway linen closet, guest bedroom, or under the bed work well for storing clothing you don't need at the moment. Prior to moving them out, sort through your clothes. You'll always find items that you no longer need or want after each season, in which case you can sell or donate them, subsequently creating more free space in your home. The items you keep should make you look and feel good, so that you're more likely to wear them. Having versatile pieces of clothing is great for keeping your closet organized and spacious. A stylist can find these pieces for you and help you create more looks out of fewer items. Win-win!
While in your closet, check your handbags. This is where all of our daily items like pens, receipts, hair ties, etc. end up. Your purse should be cleaned out daily to keep it from becoming a traveling trash bag. I love these removable purse organizers, which help keep things tidy and in their place (and make it easier to spot those items that don't belong!)
Garage & Mudrooms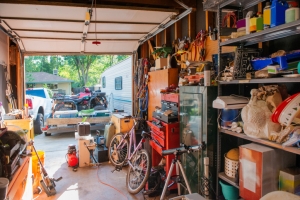 I'm not sure a child has ever returned home from a tournament or day at school in a calm and orderly fashion – LOL! Mudrooms and entryways always become a crazy mess when kids walk through the door. To avoid chaos, establish places where their frequented belongings should go. Hang hooks for coats and backpacks help keep these items off the middle of your floor. Bins or drawers for gloves, hats, and smaller items will limit the chance of misplacing those harder-to-find belongings. Having a shoe tray to catch their mud-ridden shoes is essential to a clear (and clean) pathway – just tuck it under a bench and it's as good as gone!
Lastly, let's chat about your garage. It's the first place items end up when there's no room in your home, eventually becoming an overwhelming scene. To prevent your garage becoming an unorganized catch-all, install shelving for organizational bins, and hanging racks or hooks for shovels, rakes, bikes, etc. Keep your seasonal items that aren't frequently used in labeled bins on the shelves, and don't forget to park your car inside the garage. After all, that's what it's for, right?! By keeping your car where it belongs you limit the amount of space you have to create clutter. Make a monthly dump or donation trip to keep your garage from becoming an unintentional storage unit.
Phew – I know that was a ton of tips, but they're so important! I'm confident that by organizing your clutter 'hot spots" regularly you will be able to maintain an organized home where you can enjoy yourself and relax. Don't become overwhelmed by this list – start with a few areas a month until it becomes a habit. You know what they say, "practice makes perfect!" Share your other organizing tips below, or leave a question for us! For specific requests and inquiries, feel free to reach out to us at info@sortedout.com.
Looking forward to hearing from you,
Tonia