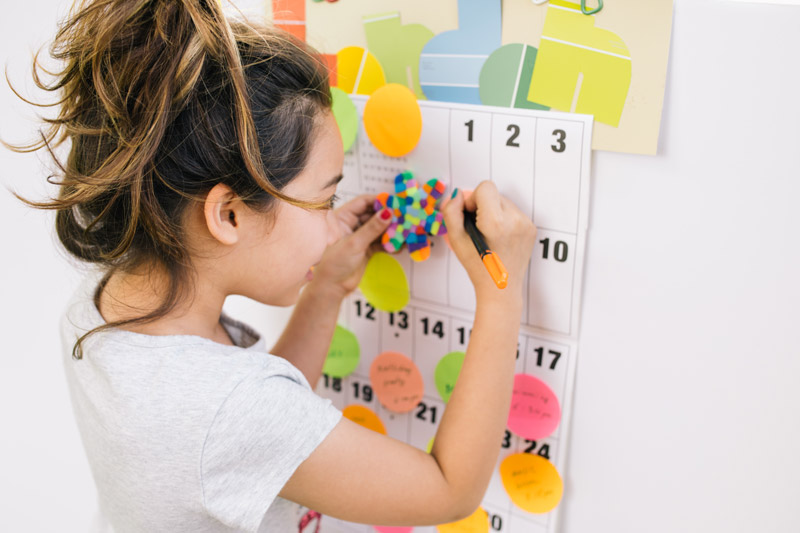 For many, summer is the season of vacation, sunburns, fireworks, and belly-aching laughter. For others (ahem, parents, I'm looking at us) it is the time of absolute chaos. Sure, summer has some amazing perks like beach trips and sunset happy hours, but let's not ignore the elephant in the room: summer can be hard! Between planning playdates, keeping your home "clean", coming up with ideas to keep the kids busy, all while making lifelong, happy memories – there's a lot of pressure that comes with the season (not to mention the Coronavirus of 2020 that forced our kids to be at home much earlier this year!). Let me help you by taking a few of those burdens off your plate.
Schedule Your Days
"What am I going to do with my kids during their summer?" This is probably the biggest question on any mom's mind come May. Through the years I've done it all: extra-curriculars, tutoring, family vacations, etc. So now I can confidently tell you that the best thing I ever did for my kids' summer schedules (and my own sanity) was schedule their days with equal amounts of fun and thought-provoking activities. Of course we don't want to bog down our children with math packets and French lessons, but I've found that they really are their best selves when given some structure mixed in with some free time.
For younger kids (think Preschool-5th grade) they will thrive in what I call the "stations" environment. Each day should have 3-5 stations, depending on the complexity and time committed to the activity. To make mom's (or dad's) life easier, I plan at least a week ahead which gives me time to buy necessary items like crafts, ingredients, etc. and also write out the lesson plan (whether my kids will see it or if it's for my eyes only, preparation is key).
There are 3 categories I try to stick to:
Brain power – this includes the typical school-type lessons like math, language arts, etc. It is good practice to keep refreshing the lessons of the past year by having them work on packets, worksheets, and the like.
Creative – think arts and crafts, science experiments, and writing. This is also a great space to include real world experiences like playing "store" and counting money.
Active play – throwing in an obstacle course or teaching your kids the game of H.O.R.S.E. will help them expel that built up energy without realizing they are learning valuable lessons of camaraderie, sharing, and patience.
All of these suggestions are clearly best suited for kids who are used to lesson structure and are decent readers/self-starters. For younger kids you will need to adjust the "brain power" activity – Kindergarten level stations may seem easy and basic but for their growing, developing minds, it's still a lot of work! For upper middle school to high school level kids, you may want to let them have a hand in planning out their weeks. Asking them which day they'd like to tackle math vs. reading and what types of activities they want to do for "active play" will not only ease tension in the household but will teach them the importance of personal choice, decision-making, and appropriately scheduling their time (a tool many kids enter college lacking).
Create a Summer Supply Station
In order to start and end the summer in an organized manner, I suggest creating a specific and easily-accessible space in one of your main living areas for your summer station supplies. Start by developing a folder for blank worksheets + lesson plans (mark each side of the folder for one and the other), a folder for the work that is to be completed that day/week (whichever works best for your child), a basket for kids to turn their work into, and a clear bin for materials (pens, markers, glue, etc.) so that you can easily see and keep track of what's inside. This will help keep the work in order and even allow children to take out and put away materials on their own. Speaking of which, a label maker will be your best friend :) This Brother P-Touch Easy-to-Use Label Maker is one that I LOVE!
I hope this article helps you enter the summer season feeling confident! What other unique ideas do you have for summer activities with kids? Please share in the comments below! As always, feel free to reach out to the Sorted Out team for all your organizational needs at info@sortedout.com.
Looking forward to hearing from you,
Tonia